Our subject here is not to talk about comics as the 9th art. This very subjective term is not known outside the circle of French-speaking comics, since it was the Belgian cartoonist Morris who proposed it in an issue of Spirou in 1964.
Our subject is rather the very special relationship Bézian has woven between his comic book world and the world of modern art. We will take as examples three of his comics that we invite you to discover. 
A comic book artist who admires Bourdelle's art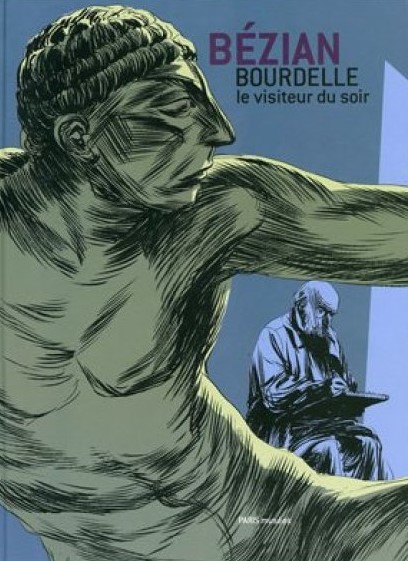 "Bourdelle, le visiteur du soir" was published in 2010 by Paris-Musées
One night, a man dressed in black enters the Bourdelle Museum and discovers, unseen, the world of Antoine Bourdelle come alive again.
There are two Antoine Bourdelle museums in France, one in Paris near the Montparnasse train station and the other in Montauban, the birthplace of the great artist.
Bourdelle is obviously not as well known as Rodin, who overshadowed all the sculptors of his time, but he is nevertheless an immense pre-expressionist artist.
He was also an art teacher and had Germaine Richier and Alberto Giacometti as students, no less !
… A comic book to be found in a bookshop or on a second-hand website!
Bézian, the great comic artist, is certainly an admirer of Bourdelle's work. This is evident in the evocation of the master's world. Bézian takes us back in time and we discover, like a little mouse (or an evening visitor), Bourdelle discussing with Rodin or Giacometti.
It is a magical album! Beware, you will not find it in bookshops any more because it is out of print, you will have to look for it on Le bon coin, Ebay or other second-hand sales platforms.
Art and science in the madness of the 1920s
Bézian, modern art and years of mad science!
The year is 1920 and scientists are found dead. They all had one thing in common, they were interested in… space conquest!  
"NO, the men who think we can go to the moon are not crazy", Ferdinand Straub tells his friend Eloi.
Straud is a former French aviation ace who has been converted into a detective and thanks to Bezian we follow his adventures, which he carries out mainly with his partner Pascin.
The two comic book heroes lead the investigation which will lead them on the trail of Doctor Radar, a dangerous and brilliant madman "the first to walk on the moon, it will be me ! Doctor Radar !! and from there, I will bombard the earth ! I will destroy cities and countries until I am named UNIVERSAL DICTATOR !!!".
And at the end of this first volume, we discover who Doctor Radar really is !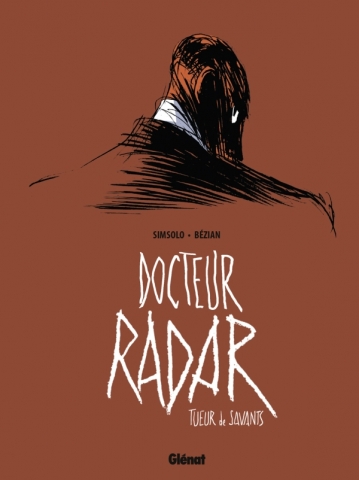 The story is breathtaking and unfolds at the speed of an era, the 1920s, which is going faster and faster and which cultivates futurism in everything. Cars, motorbikes, trains, chases, everything is speed. The drawing and the colours of the formidable illustrator Bézian are incredible.
The characters move in settings with distorted perspectives and surprising night lighting. All this accentuates their movements incredibly.
The gestures, the backgrounds, the shapes of the bodies and faces, everything is breathtaking !


Bodies influenced by Bourdelle and the Bahaus avant-garde
In this superb comic book, we find the hands à la Bourdelle. Bézian's drawing is also inspired by the silhouettes of the German-American artist Lyonel Feininger, as in his series of paintings and drawings "Die Grüne Brücke" 1907-1909, or in "Fin de séance à la bourse de Paris" 1908.
It should be noted that before becoming an artist of the German Bauhaus avant-garde, Feyninger was a caricaturist in the 1890s and then a cartoonist… of children's comics. From this period, he kept an astonishing ability to render movement in his paintings by distorting silhouettes and urban landscapes.
Bézian appropriates all the codes and atmosphere of German expressionism of the interwar period and sublimates them through movement in this superb comic.
The scriptwriter Simsolo also contributes to creating movement with a story that moves at a hundred miles an hour. To our great delight, he creates characters full of excess with great humour.
Simsolo is in fact a great man of comics, novels, theatre and cinema. His work as a film scriptwriter is constantly reflected in the narration of this crime and adventure comic. A real pleasure !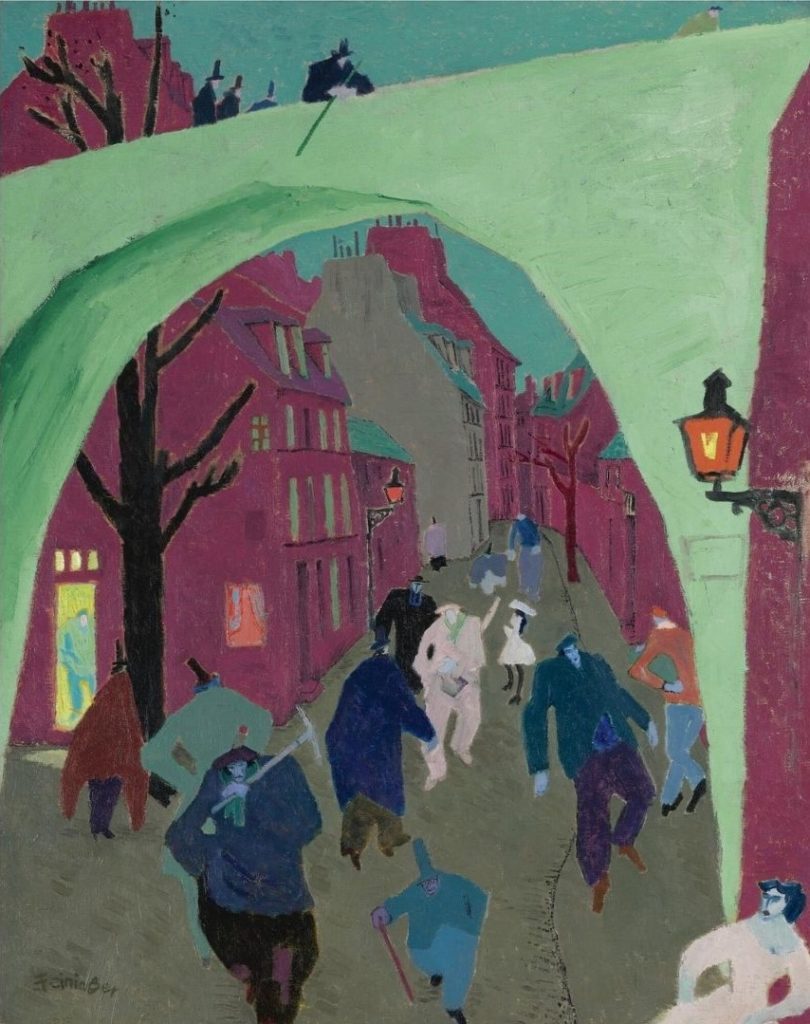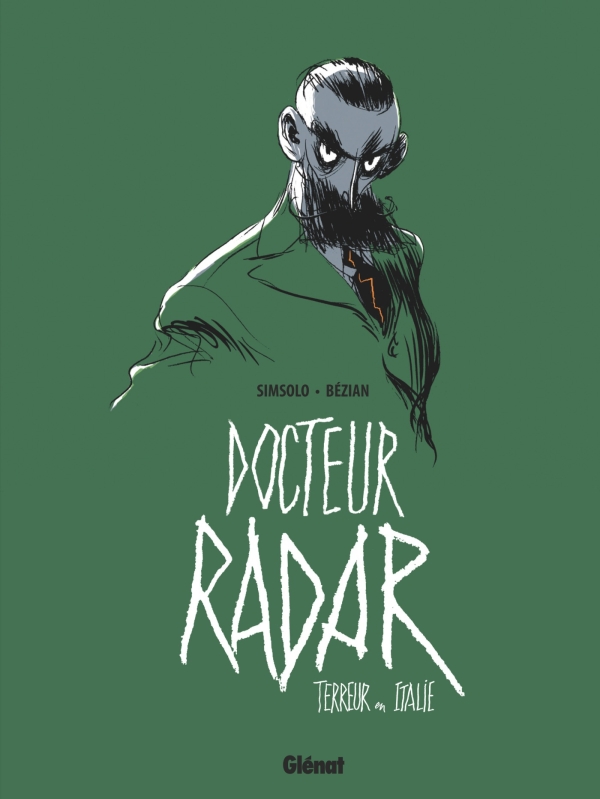 A grandiloquent modern world
The story of this second album begins in Paris where Mariana, the mistress of Dr Radar, is kidnapped while the French police are leading her to the scaffold.
But the private detective Ferdinand Straub is not mistaken. It is obviously the terrible Dr Radar who has organised Mariana's kidnapping, killing no less than three people in the process!
Ferdinand Straub then sets off in pursuit of the evil Dr Radar, all the way to Italy, which was then undergoing the beginnings of Mussolini's fascism "… stupid Mussolini".
The rhythm is still breathtaking. Bézian's drawings have not weakened, nor even Simsolo's script, which continues to play with humour with the grandiloquence of certain characters.
Big bad, scoundrels, detective, diva, American journalist… all of them overplay their characters in a roaring twenties atmosphere and we enjoy it.

Bezian and Simsolo continue to stage art and artists, as in the truculent encounter between the hero Ferdinand Straub and the surrealist painter and draughtsman Francis Picabia.
The latter, who according to legend had 127 cars in his life, lends the detective his red Mercer, an American sports car that "does 120 per hour". With this superb car, Ferdinand Straub manages to reach Italy in record time despite the transport strikes that paralyse the country. The car can literally be seen flying over the Italian vineyards at night !
In Italy, he will meet the Diva Rebecca and the filmmaker Tassone who is shooting a scene in a film whose settings are directly inspired by German expressionist cinema, such as in Robert Wiene's "The Cabinet of Doctor Caligari" or Fritz Lang's brilliant "M le Maudit".
As in volume 1, the colours are splendid, they are always signed by Bézian who is definitely a remarkable illustrator. The story ends with the escape of Doctor Radar, which leaves open the possibility of a volume 3 ! Let's hope it will be the case !
Comics universe and Bauhaus art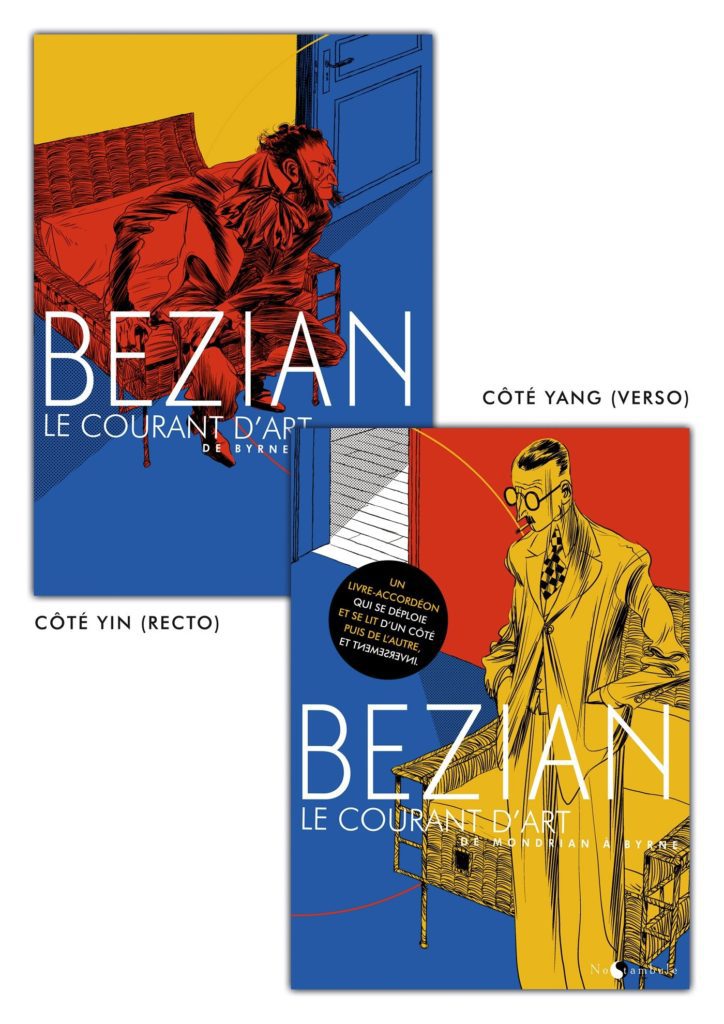 "Le courant d'art" was published in 2015 by Noctanbule
A comic book artist's feat: linking the mathematician Byrne with the painter Mondrian (and all the artists of the BAUHAUS !)
This accordion book can be read on both sides. Is it a comic book or an art book? As always with Bézian, we navigate between comics and modern art.  
On the front side : we go from the world of the mathematician Byrne to that of the painter Mondrian.
On the reverse side : we go from Mondrian to Byrne
Most of the time, the drawings are full-page and when there are boxes, they correspond to the unfolding of a single scene, mixing unity of place and time with a chronological narrative.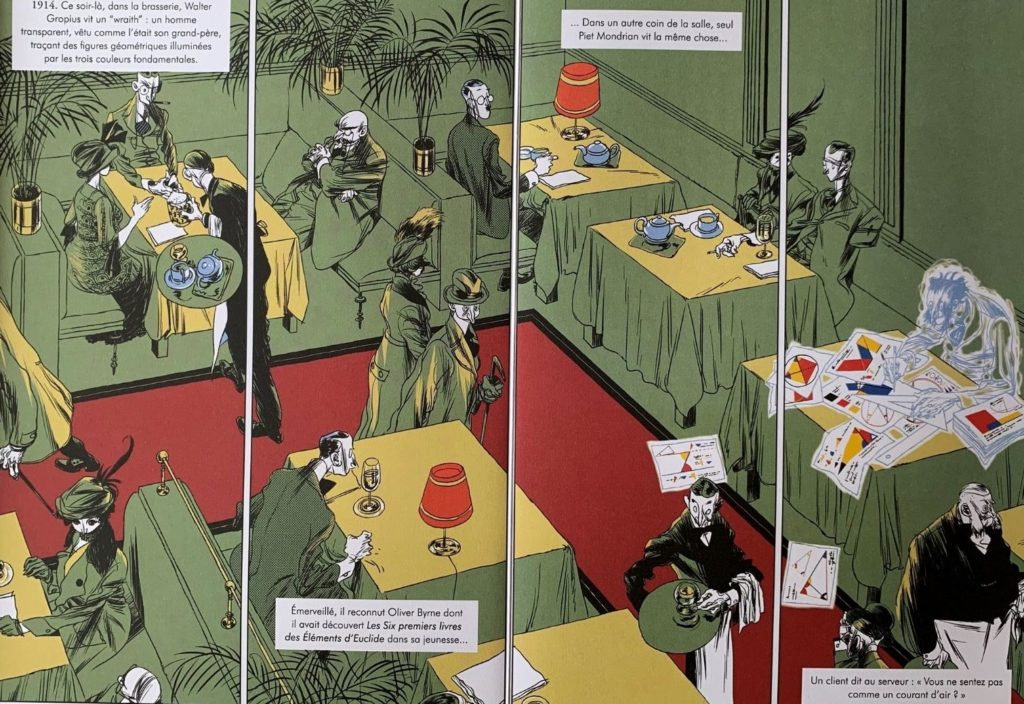 Such cut-outs can be found in some manga. This process is strange… as is this book, which makes the link between the mathematician Byrne and the artist Mondrian (and all the artists of the BAUHAUS… Lyonel Feininger can be found there!), and vice versa, depending on whether you read it on the front or back.
One could say that Le courant d'art is a comic book… of art. A unique object with fabulous illustrations and brilliant colours by the great artist Bézian.   
[monsterinsights_popular_posts_inline]