As a child, Elisabeth Baldach made rag dolls and sold them at flea markets.
As an adult, Elisabeth Baldach has had several jobs. She has been a saleswoman, a company manager and is now a dental assistant. She had taken an "artistic break" but never stopped collecting little things that could one day be used to create.
From Iraq to Europe : family portraits
I was constantly looking for anything and everything. Plants, driftwood, pebbles, small objects I've found, jewellery of little value, slightly old fabrics. It was like a long gestation period and it was only about ten years ago that Elisabeth Baldach really started creating art.
I started with family portraits inspired by my family tree. My name, Baldach, comes from the city of Baghdad where my paternal ancestors came from. They left Iraq and crossed Europe to settle in Poland and then came to France. This inspired me a lot.
The "family portraits" series
Elisabeth Baldach gives volume to her creations
Elisabeth Baldach likes to create soft sculptures or, in a similar way, to give relief to an embroidery by adding small objects, feathers, jewels, seeds, pearls… In her drawings with oil pastel, she is also looking for thickness.
She often works in series, such as "family portraits" or "chickens, a well kept house". Her themes are imbued with a certain nostalgia, with a bygone and fantasized time.
Elisabeth Baldach lives in Montpellier. She creates from her home. "I work in every room. On the sofa, on my bed, on my terrace… I have creations everywhere at home !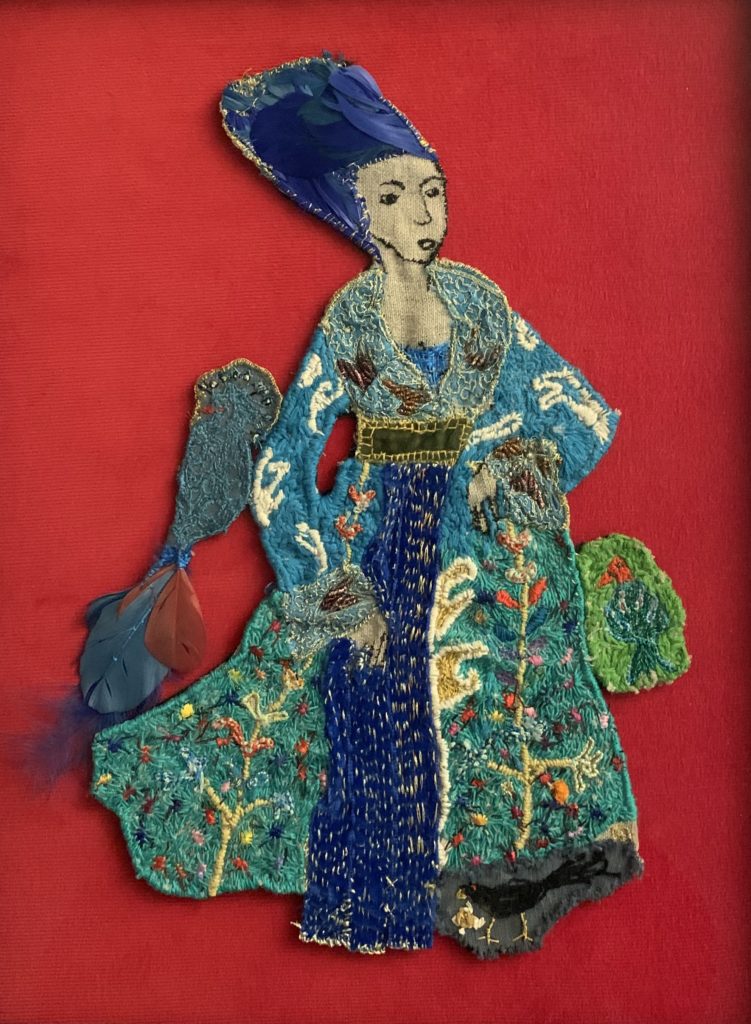 Her older sister studied Fine Arts in Paris. "She had an art project based on ancient icons. "I helped her with her project. I liked this work and it still inspires me today".   
The characters of his creation are often named, which helps to tell the beginning of a story, leaving it to our imagination to invent the rest. Thus we find "Roger le Coquet et son automobile", "Anna à la réception", "Copains comme cochon", "Tante Berthe, la dame à la robe verte" and so many other women, men and children who populate the real or imaginary world of Elisabeth Baldach.