David Mansot's creations capture a moment of life made of freedom, autonomy and warm nap in suspension. His huts give off an emotion that comes partly from our unconscious and collective memories linked to Noah, Robinson, Captain Nemo, Miyazaki's "The Castle in the Sky" animation, or Agnès Varda's film "Pointe Courte".
An artist is an inspired craftsman
""I was a craftsman, I had to become an artist with inspiration"
Walter Gropius (founder and 1st director of the Bauhaus)
David Mansot explains his vocation by referring to Walter Gropius' words, who also said that "The goal of all plastic activity is construction". Indeed, since 2020 David Mansot has become a full-time cabana artist, supported and encouraged by his family and friends.
After training as a cabinetmaker, David Mansot studied applied art to become an interior designer. Working to make people live better inside homes and offices has always been important to him… but he lacked the poetry and it is in the search for it that the craftsman became an artist.
David Mansot dreams as Geppetto
At the age of 13, he received his first jig saw. With a grandfather who was a wheelwright and a father who was a carpenter, as a child he made his own toys. As an adult, he continued to make toys for his godchildren and for his children in parallel with his activity as an interior designer.
David Mansot builds his cabins by telling stories and each story naturally draws a hut. Everything begins with a sketch, just as the architect, who he was in the past, began with plans. He makes his sketch drawings with felt pen and Indian ink and sometimes with watercolor.
His huts are inspired by his travels or the films he has loved, stories of people he has met and many of the gatherings he makes in nature.
Vertiginous huts suspended in time for freedom-loving dreamers
The notion of living is David Mansot's obsession, and his specifications can be summed up in two words: "simple and comfortable"! So he always provides comfortable seats.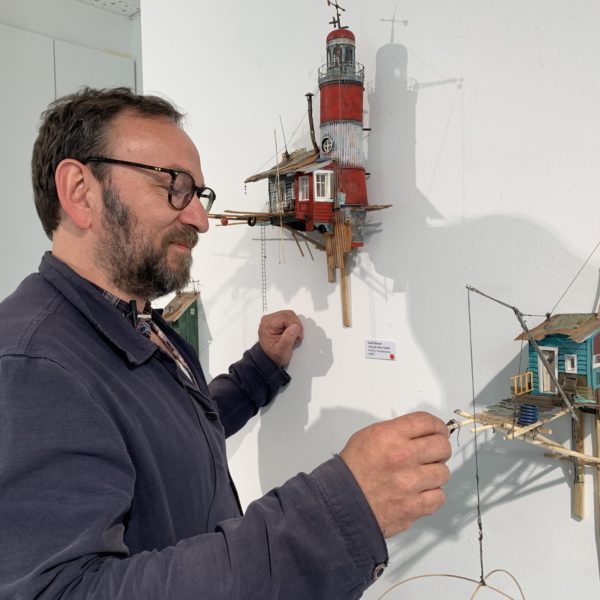 Freedom of Robinson Crusoe and Captain Nemo
In his creative process, David Mansot thinks about everything that is necessary to remain autonomous in his huts: they are all equipped with water mills or wind systems to produce electricity.
Clinging to a cliff, we do not fear, like Noah, the risk of rising water or overturning. Through the porthole below, you can even be in the water and watch the fish!
Thanks to nets, fishing rods and nets, the huts ensure food autonomy for their inhabitants. In short, with David Mansot, when you're up there, you don't want to come back down.
Vertiginous cabins close to the universe of the film director Miyazaki
How do you get there and how do you leave?
Ladders and pontoons are there to dock without damaging the hull of a boat or the cabin of a plane. It is even possible to get there by airship!
While working, David Mansot often listens to the music of Miyazaki's films from the Gibli studios: does he dream of living in "A Castle in the Sky" or in "The Moving Castle"? Of traveling with Chihiro to "Tales from the Land of the Sea"…
When you're up there, you don't want to come back down. His "Hotel des bains" is a place where one comes to rest, read, sleep, bathe, meditate. The interior is subtly arranged, the baths are inside, it is not in a spa.
Where are the inhabitants ?
Have they gone for a swim or are they taking a nap?
In David Mansot's universe, a moment of life seems to be frozen, it is hot, we are well in the shade behind the walls. No inhabitant is visible, except on his creation n°100 with inhabited plane. The control posts such as lookout, lighthouse or bow chair are all deserted.
Here, we live in freedom, no need to watch permanently, it is just in case we have to maneuver during a possible displacement!
David Mansot plays with an architectural paradox: the architectural motifs, the ridges of the roofs, the skylights, the greenhouses of his huts… are usually visible in castles or large middle-class houses. These unexpected architectural elements instantly transport us into an imaginary world of tales and legends where the most modest habitats are luxurious. They plunge us into the Hamptons or Wes Anderson-style movie sets.
The latest creations of David Mansot have a maritime air. Agnès Varda's film "Pointe Courte", shot in 1954 in the fishing village of Pointe Courte near Sète, moved him. This emotion has influenced his new creations.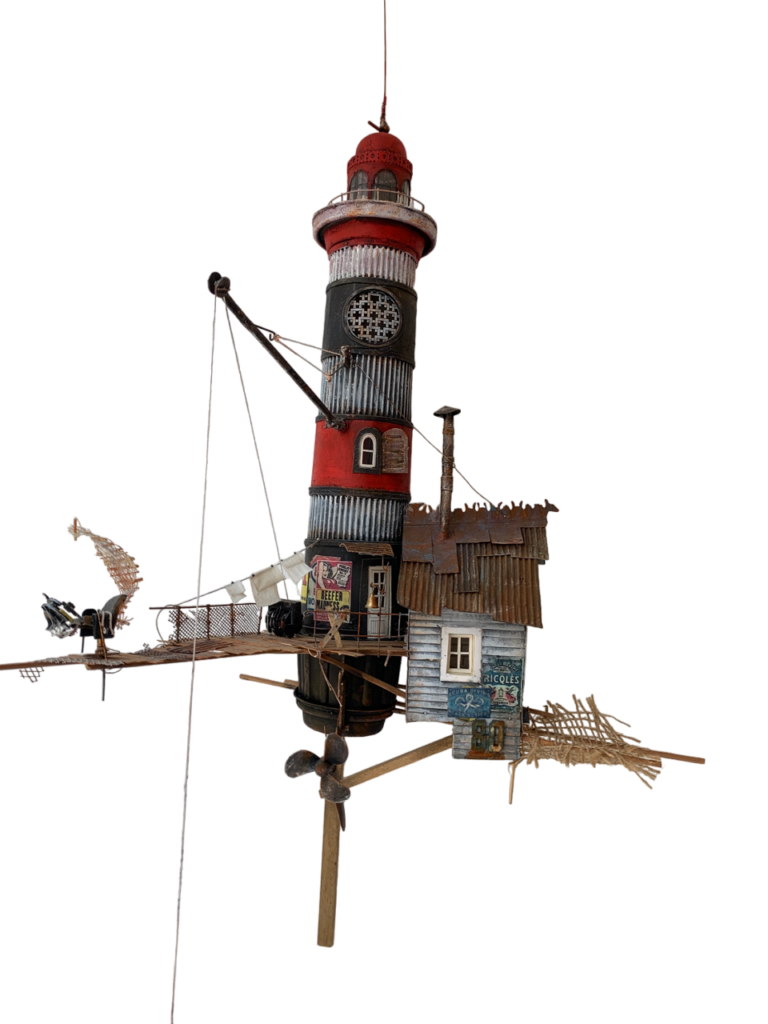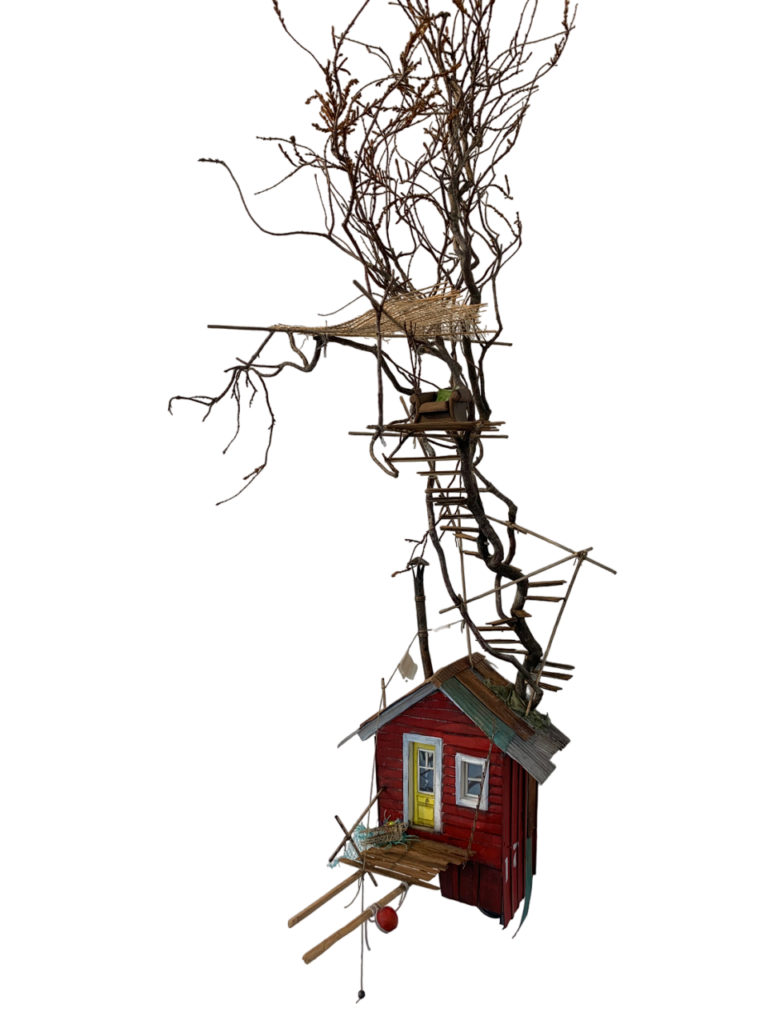 David Mansot is a rare performer
"My huts all have the price of separation. Below that price they stay at home because I always have a hard time parting with them." 
"My real motivation for all of this is my moment of wholeness, available and present at my work table in front of my sheds and tools, with my music and life around."
David Mansot's creations are becoming increasingly popular all over the world, as all men and women dream of living in a cabin one day.
In the fall of 2023, he was invited to participate in the "Small is beautiful" exhibition in Australia and then in several Asian countries.