At 38, Jérôme Oudot Trëz is an artist who evolves with great success in the world of drawing and digital creation. Digital is his initial training and his profession since, in addition to his work as an artist, Jérôme is a "Layout artist". He is responsible for the sets, characters and camera movements of 3D animation films.
In 2009 Jérôme participated in his first art exhibition with Materia Prima Art Factory in Maxéville in eastern France. This event changed his view of his creations : he became aware that his personal artistic production could interest art lovers.
Jérôme Oudot Trëz, digital artist
Since then, Jérôme Oudot Trëz paints, draws, glues, models and creates digital works. The creator is constantly building bridges between his classical and digital creations.
From his drawings on paper, he scans and reworks digitally. The artist glues and tears paper over his drawings; he can copy and paste elements of a digital creation and then animate it in GIF.
His paper works are transformed into digital works and then printed on paper in limited editions.
Often, it starts with a digital sketch followed by a drawing on paper based on that sketch. Cut-outs in his paper drawings suggest that they are computer-based !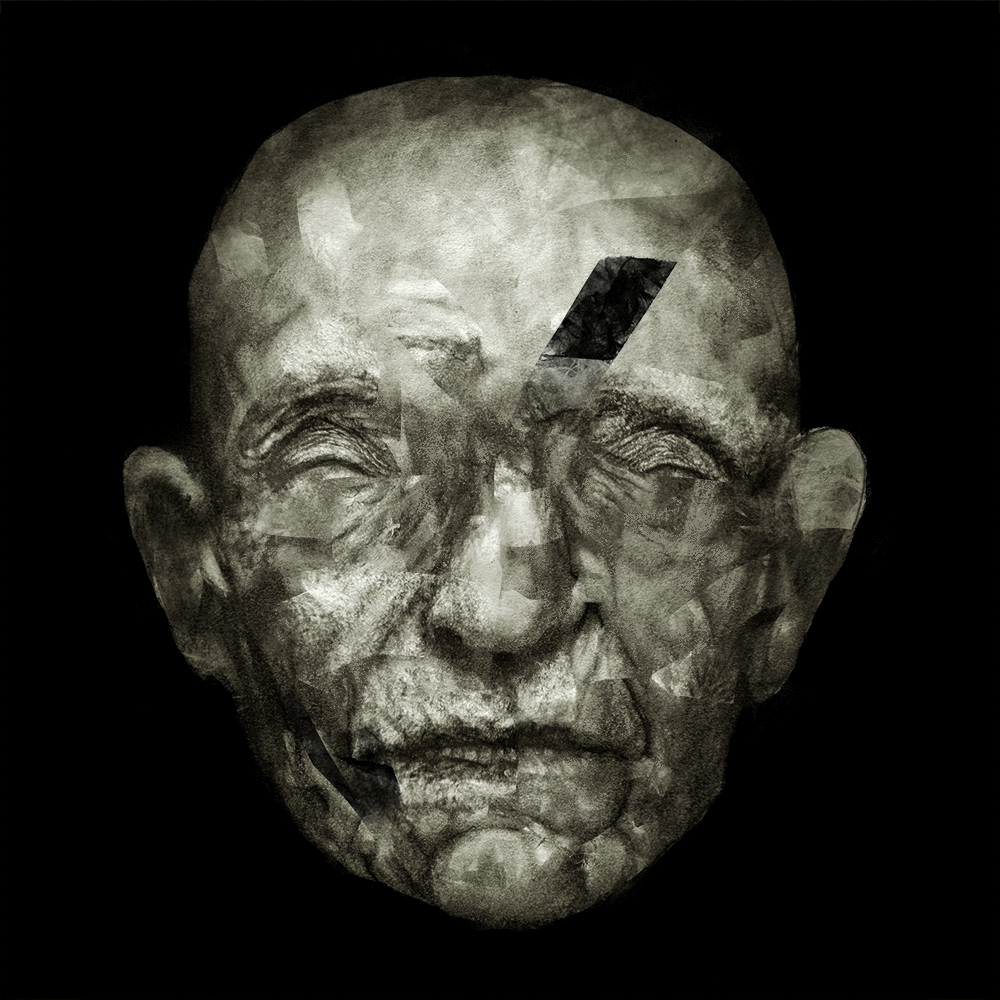 The world of drawing and digital art intermingle to the great benefit of Jérôme Oudot Trëz's creations.
The multiple back-and-forths make Jérôme Oudot Trëz's work powerfully expressionist through drawing and at the same time powerfully mechanical through digital.
The drawing expresses flesh and emotion while the digital expresses an almost mechanical violence.
Artistic inspirations and influences 
Jérôme Oudot Trëz is greatly inspired by German expressionist artists as well as by post-expressionist artists such as the Italian painter and sculptor Nicola Samori and the French painter and performer Olivier de Sagazan. Both, in a filiation with Francis Bacon, deform bodies and faces to the point of denial.
Similarly, the Swiss artist Hans Ruedi Giger, who won an Oscar for special effects in 1980 for his creature in the film Alien, "The Eighth Passenger", is a key artist for Jérôme Oudot Trëz.
With a figurative, surreal and very dark universe, the Polish painter Zdzislaw Beksinski is also an important reference in his career.
Jérôme Oudot Trëz also draws his inspiration from the universe of the British artist Dave McKean who is a writer of dark comics, photographer, director and musician.
From Samori and Sagazan, Jérôme Oudot Trëz has retained the violence and deformation of bodies and faces.
From Hans Ruedi Giger, Bekinski and McKean, he has retained the fusion of the organic and the mechanical, as well as the fear of pain and death.
NFT and digital creations : How to make a digital creation unique ?
For a long time Jérôme has been struggling with this issue that limits the success of digital creators with art collectors. Recently, he discovered NFTs (Non Fungible Tokens) which allow to authenticate a digital object like an image, a video or an audio file.
By linking one of his digital creations to NFTs on platforms such as objkt.com, he can now sell his digital creations individually or in small series. The buyer will own a unique work of art like a numbered drawing, painting or lithograph.
"With the NFT, I have found the system that legitimises my digital work"