Since a fortuitous encounter in June 2017 at the Cooperative Musée Franco Cérès, Artistes Actuels has been following the activities of Ghislaine Verdier.
She set up her company in October 2013 and in May 2014 inaugurated her first exhibition: "Suivez mon regard" (follow my glance) with 30 female talents in expressionism, singular art and expressionism and crafts.
As a nomad gallery owner and publisher, the founder of L'Oeil de la Femme à Barbe is resolutely an art activist, with dozens of exhibitions and artistic events (performances, site visits…) to her credit, as well as the publication of 23 books devoted to current outsider artists such as Sophie Sainrapt, Rebecca Campeau, Bernard Briantais, …
Since then, she has continued to pioneer the art world with mischievous, facetious energy.
"L'Oeil de la Femme à Barbe" can be translated by "the Bearded Lady's Eye"
A singular story of a feminist art activist
Ghislaine was born on April 1st, day for joking in France, at Les Bluets maternity hospital, the first in France to inaugurate "painless childbirth" methods.
The art activist had a happy childhood in Joinville-le-Pont (eastern suburbs of Paris), in a family of four children with a strong taste for sobriety: no waste, no mess, everything can be used, you can always make something new out of something old. Tinkering, sewing, activism…
Ghislaine's parents were communist activists, and she was familiar with local union meetings and the Fêtes de l'Humanité.
Although there's no real artwork in the house, there are solid guidelines that ground her esthetic choices: a few masks, a large dining room table of contemporary design, recycled objects, DIY and sewing.
No pretending, just solid work, and enough to forge an uncompromising critical spirit!
As for her sense of humor, Ghislaine inherited it from her grandfather, an unconditional lover of the Almanach Vermot, with a daily joke. With Ghislaine today, good words, mischief, playfulness are always in the air!
A gentle eye for the unconventional and the outcast
At the age of 16, Ghislaine was impressed and profoundly touched by Tod Browning's 1932 film Freaks (The Monstrous Parade in French), starring some of Barnum's circus freaks.
Today, as far as the visual arts are concerned, she seeks out free, spontaneous signatures, artworks with a rough touch that " scrapes " the eye.
L'Œil de la Femme à Barbe is suspicious about creations that are too smooth, clean and polished: From her point of view, they hide a lack of confidence or a lack of statement.
Ghislaine Verdier selects works from the hyper-multitude of artworks in circulation that she believes are the closest to sincerity.
While each artist is always influenced by his or her environment, and no artist is born spontaneously free of all influence, the important thing for L'Œil de la Femme à Barbe is to always find the author's unique personality.
Why the bearded lady's eye?
The name of her company emerged from her strange and feminist nightdreams.
A visit to a cavernous workshop in the Marais district of Paris had charmed her with its witch's cave-like setting for creating potions in the cauldron. She had also guessed a belly, another place of creation, like that of an ogress. But " The ogress's belly " would have been too frightening a name…
Moreover, the performances of the feminist collective "La Barbe" in Paris awakened in Ghislaine the image of the bearded woman from the film "Freaks" …
And in the early hours of the morning, the belly turned into an eye and the ogress into a bearded woman! Portraits of bearded women are an important part of Ghislaine's private artworks collection…
A lively, free spirit with strong esthetic lines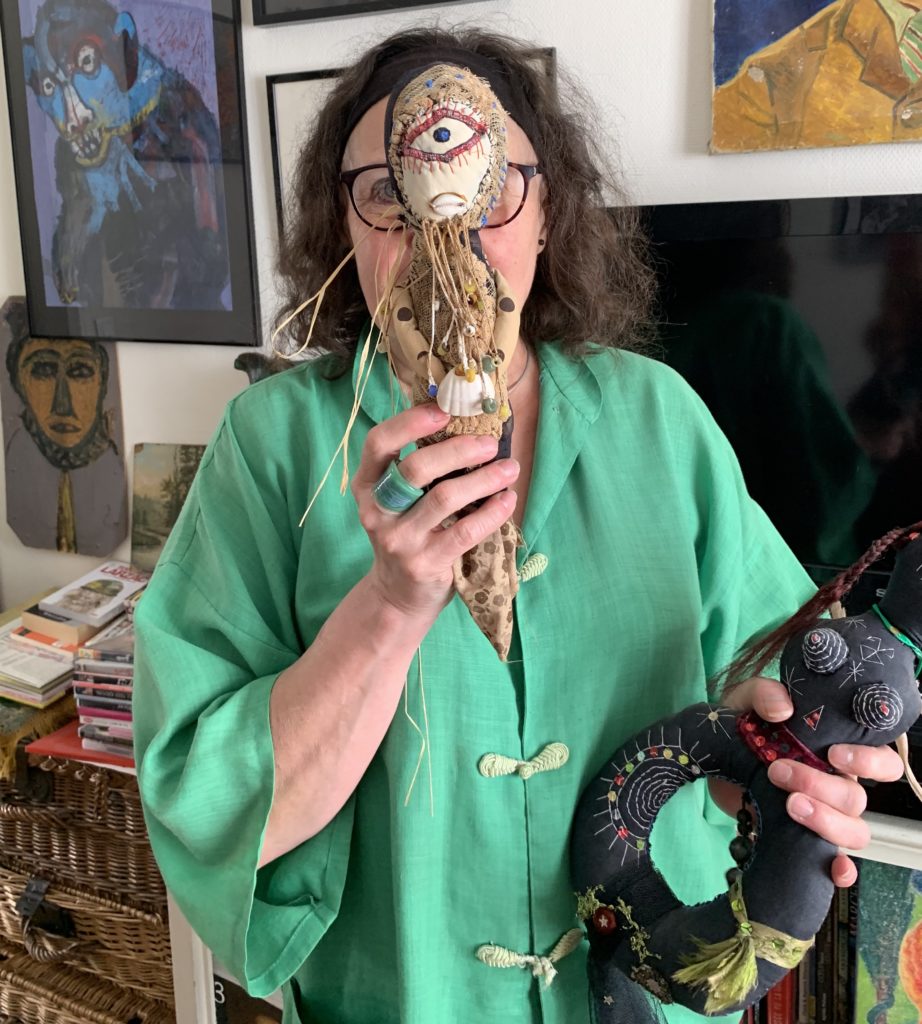 Today, as it was on its very first day, L'œil de le Femme à Barbe stands out for its independence, feminism and intuitive choice of works and artists.
Sincerity sustains all her many projects.