J'étais battue très durement
1500,00 €
Painting on canvas on stretcher

The artist uses a paint pen of his own design

Dimensions 120 x 80 cm
Auriel Bessan, alias Patricorel, is a Beninese artist born in 1990.
He graduated in History from the University of Abomey-Calavi in Cotonou.
He has exhibited in Togo, Benin and France. He recently made a collaboration with Mr Eazi, a Nigerian star singer. He is represented by the Agama gallery (Toulouse) which has been promoting his work since 2018. Many international collectors are interested in his work and have acquired his works, including the writer and former Christie's expert, Pierre Amrouche.
Armelle Malvoisin noticed him as an artist to follow in the new Beninese scene, with a focus in Beaux-Arts magazine (March 2022, page 135). Artistes Actuels met him in his studio in Cotonou.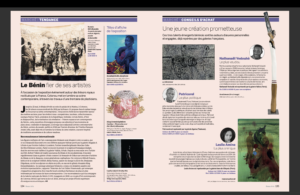 The Agama gallery was created in 2011 by Guénaël Fassier. It specialises in ancient African art as well as contemporary art, with a particular focus on contemporary African creation.
In collaboration with the AF gallery in Lomé (Togo), Guénaël Fassier has exhibited artists such as Alphonse Sallah and Camille Tété Azankpo (Togo), Gert Chesi (Togo – Austria) as well as local artists from the Toulouse area (Pavan, Manu Frigerio).
Since 2018, the Agama gallery represents the Beninese artist Patricorel and promotes his work. It devoted a solo exhibition to him in April 2022, which met with great success, crowned with numerous sales. It collaborates with Artistes Actuels to present the work of this talented artist (https://www.galerieagama.com/exposition-de-patricorel/)
The new African art scene is in full swing. Its creativity is exceptional and talented artists are numerous.

Patricorel is without hesitation one of them. His creations are powerful in their graphics and their message.

He still offers affordable works which allowed me to take the plunge several times.

Connoisseurs known for their expert eye pay him special attention (see Beaux-Arts magazine of March 2022)