French-Swiss photographer Vanda Spengler grew up in a family dedicated to books. Her grandmother is the novelist Regine Deforges and her father, Franck Spengler, is a publisher of erotic books.
It is however by the way of the image that Vanda Spengler chose to trace her way. Very early she is passionate about cinema but it is through the photography of bodies that she expresses herself.
Artistes Actuels met her twice, always with an artist with whom she has collaborated: in spring 2020 with and at Catherine Ursin, in spring 2021 with and at Jacques Cauda. 
The photographer Vanda Spengler delivers powerful photographs but also an energetic, precise and uncomplicated speech: to see and to listen to !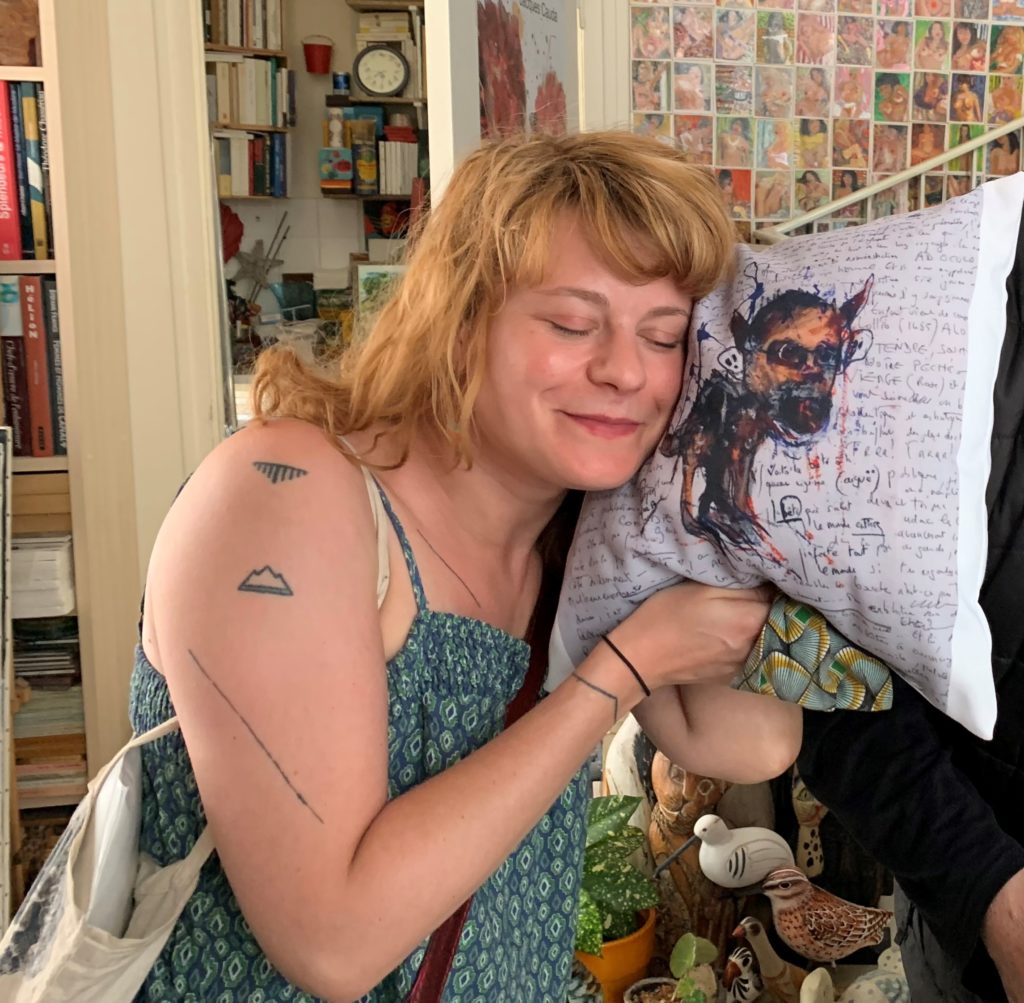 An "acid retina" which exposes the bodies
The real life without normalized beauty and voyeurism
Vanda Spengler photographs bodies. Human bodies but also animal bodies. Living bodies, injured bodies but also dead bodies. Her photography is characterized by a very raw treatment of the image.
Vanda Spengler's work constantly creates continuums between life and death.
In her series "pyromaniac self-portraits" the photographer distorts her body and face by burning the photo. She appears as if devoured by a terrible disease. Is she alive, ill or dead ?
In the same way, she photographs the handicap or the injury of human bodies with for example a recurrent work on scars. It is always raw but without ever, it seems to us, falling into voyeurism.
This is the case with the "Profane Pietàs" series. The Pietàs are an artistic theme in Christian painting and sculpture where Mary is depicted weeping for her son Jesus whom she holds in her arms after the descent from the cross. In the classical pietàs, Christ is dead but we know that he will rise again.
Vanda Spengler is inspired by this theme and photographs, for example, a man carrying a naked, handicapped and pregnant woman. This image is disturbing because of the ambiguity it generates by mixing heavy handicap and maternity, but it is life that wins with this photograph.
It is the same ambiguous mixture between life and death or life and pain that we find in the series "Germs" with, for example, this very beautiful photograph of a young woman's body with a breast showing a huge scar. We feel that death has brushed this woman but her child is there showing that it is finally life that has won.
Staging and photographing predatory mankind
Vanda Spengler has also taken an interest in animals with her series "Carcasses". She photographs dead animals, often butchered and reduced to meat. But these animals have just been killed because their meat is still warm and red.
When Vanda makes them appear with a naked male or female body, it is disturbing but does it not force us to look at ourselves as the predators that we are ?
This role of the predator or butcher is also questioned with a superb reinterpretation of the work "The flayed ox" by Rembrand. Vanda captures the butchering of a boar after the hunt.
A photographer who federates around herself
Many designers are not naturally inclined to work in teams, fearing that they will have to accept difficult compromises.
Vanda Spengler doesn't bother with these considerations. The photographer knows how to use her energy as an extrovert artist to unite people around her. She is thus at the origin of several collective projects.
A photographer who disconcerts art
In 2020, during the first confinement, she opened her photographs to visual artists so that they could create works from her photos. These "confined" collaborations (because they came out of the confinement) resulted in about sixty creations, some of which were very successful (with David Ortsman, Catherine Ursin, Jacques Cauda…)
To highlight this collaborative work, Vanda Spengler has published two booklets "Rétines Acides" from a selection of about thirty paintings and drawings. This "fanzine" is a rare object of artistic anthropology on a moment where the cultural life of the country stopped but not the artistic creation.
How to get the fanzine "Rétines Acides", #1 and #2
If you like current art, this is an opportunity to support current creation! By referring to Artistes Actuels, you will get a dedication and a small surprise print. Don't miss it !
Excerpts from collaborations between Vanda and current artists …
[monsterinsights_popular_posts_inline]